| By
Animal Studies

In mice, curcumin, the ingredient in turmeric, blocks the development of skin cancer and inhibits the spread of some breast cancers. Further study mixed turmeric with Taxol, a chemotherapy with serious side effects.
The researchers found a decrease in the occurrence and severity of the unwanted effects of this drug, according to UCLA. Another study in mice done in 2004 suggested that curcumin might lessen the effects of Alzheimer's disease. UCLA reports this prompted human study.

Human Studies
The scientists at UCLA designed the first study to assess curcumin on people afflicted with Alzheimer's disease. Thirty-six patients taking part in this study consume large doses of curcumin to see how well the body absorbs and utilizes the potent antioxidant.
Other research by Johns Hopkins University and the University of Washington examines whether curcumin would have positive effects on cystic fibrosis therapy. The impetus for this study was the positive results from a study of mice with this lung condition. Additionally, researchers from Medical College of Georgia state that turmeric can reduce the severity of hemorrhagic stroke by reducing the size of the blood clot responsible, reports Science Daily.


Targets of curcumin
Curcuma as a functional food in the control of cancer and inflammation.
Turmeric (the common name for
Curcuma Longa
, known as
haldi
in Hindi) is an Indian spice that belongs to the ginger family [
1
]. Besides the use as a spice, food preservative and coloring agent, turmeric has been traditionally used in Ayurvedic medicine for the treatment of various ailments such as arthritis, ulcers, jaundice, wounds, fever, trauma as well as skin diseases like psoriasis [
2
].
3. Human clinical trials
Over the past years, a number of clinical trails have addressed the pharmacokinetics, safety and efficacy of curcumin in humans.

Consistent with the growing

in vitro

and

in vivo

evidence of curcumin's anti-inflammatory and anti-cancer properties, disease targets include rheumatoid arthritis [

244

], postoperative inflammation [

245

], idiopathic inflammatory orbital pseudotumors [

246

], Alzheimer's disease, multiple myeloma [

247

], pancreatic cancer [

247

], and colon cancer [

248

]

.


The results from several preclinical and clinical trials showed that curcumin is remarkably well tolerated. Even at high doses, curcumin appears nontoxic to animals or humans [

249

,

250].
A Phase I clinical trial of curcumin was conducted in patients with

high risk conditions or pre-malignant lesions of the bladder, skin, cervix, stomach or oral mucosa

[249

]. When curcumin was administered as a single daily oral dose ranging from 500 to 8000 mg/day for 3 months, the treatment was well tolerated [

249]. In an independent dose-escalation study of curcuma extract on 15 patients with advanced colorectal cancer, curcumin extract was administered to patients at doses between 440 and 2200 mg/day, equivalent to 36-180 mg of curcumin, for up to 4 months.
No treatment-related toxicity was observed at any doses either [251

].
4. Conclusions
For thousands of years, curcumin has been used in the Orient as a healing agent for a wide range of inflammatory, neoplastic and other conditions. In recent years, the great therapeutic potential against various human diseases, including cancer, cardiovascular diseases, diabetes, arthritis, neurological diseases, and HIV-disease, has been documented. According to the PubMed, over 3000 studies have been carried out with curcumin. This natural product can modulate multiple cellular signaling pathways and affect numerous molecular targets. Although curcumin is quite safe in humans, its low bioavailability may be a limitation for clinical use. Various approaches are being undertaken to enhance the bioavailability of curcumin. Obviously, more studies are needed to fully evaluate the efficacy and the safety of reformulated curcumin, the structural analogues of curcumin as well as the combination of curcumin with existing therapies. Nevertheless, the low cost, pharmacological safety, proven therapeutic efficacy and multiple targeting potential make curcumin a promising agent for prevention and treatment of various human diseases.

_


http://www.ncbi.nlm.nih.gov/pmc/articles/PMC3025067/
Side Effects and Dosing
Turmeric is used extensively by Eastern cultures where people have statistically lower incidences of many cancers, heart disease and Alzheimer's disease.
Illnesses that thrive on inflammatory conditions are also less common in the East.
Turmeric reduces inflammation in the body, thus giving it enormous potential in fighting disease.
Minimal side effects occur from using turmeric in food or as household remedies. At extremely high doses, using turmeric/curcumin medicinally carries some risk of side effects, which include indigestion, nausea and diarrhea. Although safe for the liver, turmeric may cause people with gallbladder trouble to have a worsening of their symptoms, according to the National Center for Complementary and Alternative Medicine.
_
http://www.livestrong.com/article/403022-what-is-turmeric-where-do-you-get-it/
Maustekurkuma, Turmeric (Curcuma longa)
Now Foods, Curcumin 120 Softgels
Kurkuma

valittiin

Suomessa

vuoden

2010

rohdoskasviksi
Maustekurkuma on inkiväärikasveihin kuuluva ruohovartinen kasvi. Sen juurista saatavaa maustetta kutsutaan kurkumaksi. Juuri kuivataan ja jauhetaan, jolloin tuloksena on voimakkaan keltainen maustejauhe, jota käytetään usein currymausteseoksen osana ja muussa eteläaasialaisessa ruoanlaitossa. Kurkumaa käytetään myös keltaisen värin antajana eräissä sinapeissa sekä jopa kankaiden värjäykseen.
Maustekurkumasta uutetaan kurkumiinia, jota käytetään elintarvikkeissa väriaineena. Kurkumiinin E-koodi on E 100.

Kurkumasta ovat ensimmäiset maininnat assyrialaisten kasviluetteloissa 600 eaa., jolloin sitä on käytetty väriaineena. Arabit toivat sen Eurooppaan, ja sitä kutsuttiin usein "Intian sahramiksi". Perimätiedon mukaan kurkumalla on lääkinnällisiä ominaisuuksia, sen pitäisi auttaa erilaisiin vatsavaivoihin. Kulttuureissa, joissa kurkumaa käytetään paljon, paksusuolen syöpä on harvinainen, mutta toki kyseessä oleva ruokavalio poikkeaa muutenkin länsimaalaisesta.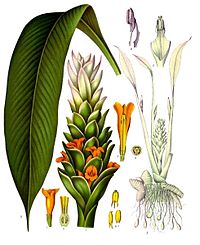 Viime vuosikymmeninä kurkuman on havaittu laukaisevan syöpäsoluissaapoptoosin eli solukuoleman, joka nimenomaan syöpäsoluissa on usein estynyt. Varsinkin melanoomaa ja rintasyöpää...
Lääketieteessä kasvia käytetään tulehdusten estämiseen.
Kurkumakasvilla on antioksidantti- ja antikarsinogeeninen-, anti-inflamatorinen vaikutus.
Kurkumiinin on todettu vähentävän kaasun muodostusta suolistossa. Kurkuman toisen yhdisteen p-tolymetyylikarbinolin on havaittu lisäävän haiman ruuansulatusentsyymien eritystä. Myrkyllisyyttä ei ole havaittu käytetyillä terapeuttisilla annoksilla.
Kurkumiinin on todettu eräässä tutkimuksessa säännöllisesti nautittuna estävän diabeteksen puhkeamisen
.
[2]
____________________
CIBUSINE FORTE

Vahvasti kurkumaa

Kurkumaa on vuosisatoja käytetty erilaisten olotilojen hallintaan. Nykytutkimus on todentanut kurkuman tehon. Se suojaa elimistöä antioksidanttina ja edistää immuunijärjestelmän toimintaa.
Tavallisessa kurkumauutteessa vain noin 1 % käytetystä kurkumiinista,
kurkuman
aktiiviaineesta, siirtyy verenkiertoon ja solujen käyttöön.
Cibusine forten TSE forte -kurkumauute (Turmeric Super Extract forte)
on
kurkumiinin ja beetasyklodekstriinin yhdistelmä.
Beetasyklodekstriini* lisää kurkumiinin vaikuttavuutta monikertaisesti.



Cibusine fortea voi käyttää aina tarvittaessa, se sopii myös pitkäaikaiskäyttöön esim. nivelongelmissa.
Pieni paketti on helppo pitää mukana taskussa tai laukussa.

Kurkumauutetta sisältävä ravintolisä
Pakkauskoko:
15 tablettia (6) g, läpipainopakkaus
Ainesosat:
TSE (Turmeric Super Extract) forte -kurkumauute
- kurkumiini Curcuma longa -kasvista
- beetasyklodekstriini
- polysorbaatti 80 (stabilointiaine)

Täyte- ja paakkuuntumisenestoaineet
- dikalsiumfosfaatti
- mikrokiteinen selluloosa
- kasvirasvahappojen magnesiumsuolat
| | |
| --- | --- |
| Vaikuttavat aineet | 1 tabl. |
| TSE-kurkumauute | 33 mg |
| joka vastaa kurkumiinia 4 | 4800 mg |
Annostus:
1–2 tablettia tarvittaessa; niellään kokonaisena runsaan veden kera.
Käyttörajoituksia:
Lääketieteelliset vaikutukset