MONSANTO Family Were Jewish Slave Dealers And Owners
Monsanto consistently outperform its rival to earn the crown of the most evil company on earth, follows closely by Ajinomoto has never fail to use newer innovation methods through scientific ways to maintain the throne of destruction. The first company to use chemical saccharin also know as artificial sweetener for Coca Cola.
The morale of the story is give the product a fancy name with a good packaging, people will buy and consume even if is poison!
1901: The company is founded by John Francis Queeny, a member of the Knights of Malta, a thirty year pharmaceutical…
.
Jewish Slave Ship Owners

Disclosing Jewish Involvement African Slave Trade Dr Tony Martin

Published on Apr 23, 2012
Khazarian (Jewish) Involvement In Black Slave Trade To The Americas
By Rabbi Marc Lee Raphael
Here is some interesting MONSANTO history:
The Jewish Monsanto Family of Louisiana included Benjamin, Isaac, Manuel, Eleanora, Gracia and Jacob. They made frequent purchases of Blacks including twelve in 1785, thirteen and then thirty-one in 1787, and eighty in 1768.


In 1794, Benjamin sold "Babet," a Black woman, to Franco Cardel. Manuel sold two Blacks from Guinea named "Polidor" and "Lucy" to James Saunders for $850 in silver.
As individuals they were owners of Africans whom they named "Quetelle," "Valentin," "Baptiste," "Prince," "Princess," "Ceasar," "Dolly," "Jen," "Fanchonet," "Rozetta," "Mamy," "Sofia," and many others.

Isaac repeatedly mortgaged four of these when in financial trouble.
Benjamin Monsanto of Natchez, Mississippi entered into at least 6 contracts for the sale of his slaves which would take place after his death. Gracia bequeathed nine Africans to her relatives in her 1790 will, and Eleanora also held Blacks as slaves.


Manuel Jacob Monsanto entered into at least 12 contracts for sale of slaves between 1787 and 1789 in Natchez and New Orleans, Louisiana.1135 "His family consists of himself and seven Negroes."1136 Later, "Jacob Monsanto, son of Isaac Rodrigues Monsanto, one of the very first known Jews to settle in New Orleans, owner of a several-hundred-acre plantation at Manchac, fell in love with his slave, Mamy or Maimi William. Their daughter Sophia, grew up to be a lovely quadroon."

An excerpt of one of Benjamin's many slave contracts follows:


"Be it known to all to whom these presents shall come, that I Benjamin Monsanto do really and effectually sell to Henry Manadu a negro wench named "Judy," aged Eighteen years, native of Guinea, for the sum of four hundred Dollars in all the month of January in the year one thousand Seven hundred and ninety one; and paying interest at the rate of ten per cent for the remaining two hundred and fifty Dollars until paid; said negro wench being and remaining mortgaged until final payment shall have been made; wherewith I acknowledge to be fully satisfied and content, hereby renouncing the plea of non numerata pecunia, fraud, or others in the case Whatsoever; granting formal receipt for the same.

For which said consideration I do hereby resign all right, title, possession and claim, in and to the said Slave, all of which I transfer and convey to the Said Purchaser and his assigns, to be, as his own, held and enjoyed, and when fully paid for, Sold, exchanged, or otherwise alienated at pleasure in virtue of these presents granted in his favor in token of real delivery, without other proof of property being required, from which he is hereby released, binding myself to maintain the validity of this present sale in full form and right in favor of the Purchaser aforesaid, and granting authority to the Justices of his Majesty to compel me to the performance of the same as if Judgment had already been given therein, renouncing all laws, rights, and privileges in my favor whatsoever.

And I the said Henry Manadu being present, do hereby accept this Instrument in my favor, receiving said negro Wench as purchased in the form and for the consideration therein mentioned and contained, wherewith I am fully satisfied and content, hereby renouncing the plea of non numerato pecunia, fraud, or other considerations in the case Whatsoever; granting formal receipt for the same. Done and executed, in testimony thereof, at the post of Natchez, this nineteenth day of the month of February in the year one thousand seven hundred and ninety…."
Benjamin Monsanto, sold land and "a Dwelling House, Store, and two other buildings, for which I have received payment in a negro, named 'Nat;' to my full satisfaction." Another contract stipulated "that Don Louis Faure is bound to defend the said sale in case the negro shall be claimed by any other Person."

In a 1792 contract, Benjamin mortgaged his Black slaves: "I do hereby specially mortgage three slaves to me belonging, namely Eugene and Louis, aged twenty four years each, the first named of the Senegal nation and the second of the Congo nation; and a Negro Woman named Adelaide, aged twenty eight years, also of the Congo nation; which said slaves I warrant free from mortgage or other incumbrance, as I have made appear by certificate from the Recorder of mortgages; and which said slaves I promise and engage shall not be sold nor otherwise alienated during the term of this obligation…"


========================


The following Jews were known dealers, owners, shippers or supporters of the slave trade and of the enslavement of Black African citizens in early New York history.
Issack Asher, Jacob Barsimson, Joseph Bueno, Solomon Myers Cohen, Jacob Fonseca, Aberham Franckfort, Jacob Franks, Daniel Gomez, David Gomez, Isaac Gomez, Lewis Gomez, Mordecai Gomez, Rebekah Gomez, Ephraim Hart, Judah Hays, Harmon Hendricks, Uriah Hendricks, Uriah Hyam, Abraham Isaacs, Joshua Isaacs, Samuel Jacobs, Benjamin S. Judah, Cary Judah, Elizabeth Judah, Arthur Levy, Eleazar Levy, Hayman Levy, Isaac H. Levy, Jacob Levy, Joseph Israel Levy, Joshua Levy, Moses Levy, Uriah Phillips Levy, Isaac R. Marques, Moses Michaels, (E)Manuel Myers, Seixas Nathan, Simon Nathan, Rodrigo Pacheco, David Pardo, Isaac Pinheiro, Rachel Pinto, Morris Jacob, Raphall Abraham Sarzedas, Moses Seixas, Solomon Simpson, Nathan Simson, Simja De Torres, Benjamin Wolf, Alexander Zuntz


To read more…about Jewish Slave Dealers And Owners
http://www.blacksandjews.com/CharsheeMcIntyreJews%26Slavery.html


Busted: Monsanto Abusing Illegal Workers in 'Slave-Like' Conditions

Anthony Gucciardi
Natural Society
January 20, 2012
image: http://naturalsociety.com/wp-content/uploads/monsantoslavelabor-210x131.jpg


Monsanto's disregard for human health is evidenced by their
hazardous GMO crops and herbicides
, but a shocking new report has revealed the company's
illegal 'slave-like' working conditions
. Forcing slave workers to work the cornfields for 14 hours per day and buy their food (most likely GMO) at
highly-inflated prices from the company store
, Monsanto has been
running these slave rings
for an unknown number of years.
What's more is the company not only 'hired' all of the workers illegally, but
prevented them from leaving the farm premises and withheld their salaries
. The information came to light following a raid by Argentina's tax agency known as AFIP, where it was revealed that the farmhands were being forced to work almost twice as long as legally permissible and given no compensation. Amazingly,
AFIP says
that it will hold Monsanto responsible for the slave-like conditions.
Unsurprisingly, Monsanto failed to respond to the story.
Monsanto: A Corrupt History of Inhumane Abuse
This is not the first time Monsanto has abused workers, or even farmers dedicated to using the company's GM seeds. In fact, Monsanto's previous crimes against the human race are arguably even more despicable. In 2008 it was revealed that
thousands of farmers were committing suicide
after using GMO crops. Due to failing harvests and inflated prices that bankrupt the poor farmers, they began to kill themselves oftentimes drinking the very same insecticide that Monsanto supplied them with.
Monsanto conned the farmers into buying GM seeds, which were heavily overpriced and performed far worse than traditional seeds. Monsanto charged the struggling farmers £10 for 100 grams of GM seed, while they could have purchased 1,000 times more traditional seeds for the same amount. The result was career-ending harvests that led to mass suicide.
'We are ruined now,' said the dead man's 38-year-old wife. 'We bought 100 grams of BT Cotton. Our crop failed twice. My husband had become depressed. He went out to his field, lay down in the cotton and swallowed insecticide.'
Village after village, families were crushed by Monsanto's tainted seeds.
Perhaps even more concerning is the fact that these GMO crops are now consumed across the globe despite a
review of 19 studies
announcing that
consumption of GMO corn or soybeans may lead to significant organ disruptions in rats and mice – particularly in the liver and kidneys
. Of course GMO crops not only destroy human health, but devastate the environment.
Thanks to Monsanto's best-selling herbicide Roundup, farms across the world are experiencing the emergence of herbicide-resistant superweeds. The heavily resistant weeds have an immunity to glyphosate, an herbicide that Roundup contains. These resistant weeds currently cover over 4.5 million hectares in the United States alone, though experts estimate the world-wide land coverage to
have reached at least 120 million hectares by 2010
.
The appearance of these superweeds is being increasingly documented in Australia, Argentina, Brazil, Chile, Europe and South Africa.
Following current trends, genetically modified food products will makeup the majority of the future food supply if a change is not made. Statistics show how GMO crops and ingredients have skyrocketed in even the past few years.


image: http://naturalsociety.com/wp-content/uploads/gmocropgrowthchart.jpg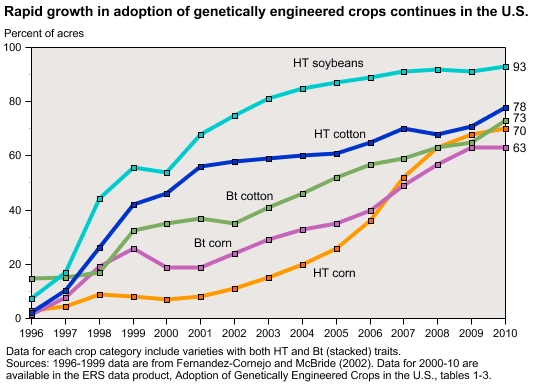 Nations Take a Stand
France, Hungary, and Peru are a few of the countries that have decided to
take a stand against Monsanto
. Hungary actually went as far as to
destroy 1000 acres
of maize found to have been grown with genetically modified seeds, according to Hungary deputy state secretary of the Ministry of Rural Development Lajos Bognar.
Peru has also taken a stand for health freedom, passing a monumental
10 year ban on genetically modified foods
. Amazingly, Peru's Plenary Session of the Congress made the decision despite previous governmental pushes for GM legalization. The known and unknown dangers of GMO crops seem to supersede even executive-level governmental directives.
Through spreading information and speaking out about Monsanto's crimes against humanity, real change can occur. Even small amounts of activism can result in major geopolitical change.

Read more at http://thepoisonappleoftheworld.com/monsanto-family-were-jewish-slave-dealers-and-owners/#DC4qx6JSoyCAVT4L.99
For decades, the White people of America have been subjected to a continual barrage from Blacks and others that Europeans are somehow "responsible" for the African slave trade and that we need to "atone" for our "guilt." There are a number of flaws with the idea that we are somehow "responsible" for the African slave trade.
THE TOUGH JUDEO SLAVE CARGOS
SLAVES SHIPPED BY JEWS IN CRUEL CONDITIONS
First, few White people even owned slaves--slavery was a rich man's pursuit, and slavery did not exist amongst the middle and working classes of White people.

Second, even if every European in America had an ancestor who owned slaves (which is an extremely unlikely proposition), it makes little sense to blame the children for the supposed sins of their fathers.


LET US NEVER FORGET...
Third, Blacks sold their own kind into slavery, do blacks are every bit as much to blame for slavery as are Whites.

Fourth, European Whites did not bring the slaves to America. On the contrary, it was the Asiatic Jews who brought them here.
Below is a listing of the Jewish slave ships and the Jewish owners of them.
Jewish Slave Ship Owners
Name of ship

Owners

Ethnicity

Abigail
Crown
Nassau
Four Sisters
Anne & Eliza
Prudent Betty
Hester
Elizabeth
Antigua
Betsy
Polly
White Horse
Expedition
Charlotte
Caracoa
Aaron Lopez, Moses Levy, Jacob Franks
Issac Levy and Nathan Simpson
Moses Levy
Moses Levy
Justus Bosch and John Abrams
Henry Cruger and Jacob Phoenix
Mordecai and David Gomez
Mordecai and David Gomez
Nathan Marston and Abram Lyell
Wm. De Woolf
James De Woolf
Jan de Sweevts
John and Jacob Roosevelt
Moses and Sam Levy and Jacob Franks
Moses and Sam Levy
Jews
Jews
Jew
Jew
Jews
Jews
Jews
Jews
Jews
Jew
Jew
Jew
Jews
Jews
Jews
Source: Elizabeth Donnan, 4 Volumes, 'Documents Illustrative of the History of the Slave Trade to America' Washington, D.C. 1930, 1935 Carnegie Institute of Technology, Pittsburgh, Pa.

In addition,
Rabbi Marc Lee Raphael is the Nathan and Sophia Gumenick Professor of Judaic Studies, Professor of Religion, and Chair, Department of Religion, The College of William and Mary, and a Visiting Fellow of Wolfson College, Oxford University. He has been the editor of the quarterly journal, American Jewish History, for 19 years, and a visiting professor at Brown University, the University of Pittsburgh, HUC-JIR, UCLA, and Case Western Reserve University. He came to The College of William and Mary in 1989 after 20 years at Ohio State University. He is the author of many books on Jews and Judaism in America, and his most recent publication (with his wife Linda Schermer Raphael) is When Night Fell: An Anthology of Holocaust Short Stories (Rutgers University Press, 1999). He is now writing Judaism in America for the Contemporary American Series of Columbia University Press. Visit him at the website of his synagoge, Bet Aviv, in Columbia, Maryland.

The following passages are from Dr. Raphael's book Jews and Judaism in the United States a Documentary History (New York: Behrman House, Inc., Pub, 1983), pp. 14, 23-25.

"Jews also took an active part in the Dutch colonial slave trade; indeed, the bylaws of the Recife and Mauricia congregations (1648) included an imposta (Jewish tax) of five soldos for each Negro slave a Brazilian Jew purchased from the West Indies Company. Slave auctions were postponed if they fell on a Jewish holiday. In Curacao in the seventeenth century, as well as in the British colonies of Barbados and Jamaica in the eighteenth century, Jewish merchants played a major role in the slave trade. In fact, in all the American colonies, whether French (Martinique), British, or Dutch, Jewish merchants frequently dominated.

"This was no less true on the North American mainland, where during the eighteenth century Jews participated in the 'triangular trade' that brought slaves from Africa to the West Indies and there exchanged them for molasses, which in turn was taken to New England and converted into rum for sale in Africa. Isaac Da Costa of Charleston in the 1750's, David Franks of Philadelphia in the 1760's, and Aaron Lopez of Newport in the late 1760's and early 1770's dominated Jewish slave trading on the American continent."

Dr. Raphael discusses the central role of the Jews in the New World commerce and the African slave trade (pp. 23-25):
SEVENTEENTH AND EIGHTEENTH CENTURIES
JEWISH INTER ISLAND TRADE
CURACAO, 1656
During the sixteenth century, exiled from their Spanish homeland and hard-pressed to escape the clutches of the Inquisition, Spanish and Portuguese Jews fled to the Netherlands; the Dutch enthusiastically welcomed these talented, skilled businessmen. While thriving in Amsterdam-where they became the hub of a unique urban Jewish universe and attained status that anticipated Jewish emancipation in the West by over a century-they began in the 1500's and 1600's to establish themselves in the Dutch and English colonies in the New World. These included Curacao, Surinam, Recife, and New Amsterdam (Dutch) as well as Barbados, Jamaica, Newport, and Savannah (English). In these European outposts the Jews, with their years of mercantile experience and networks of friends and family providing market reports of great use, played a significant role in the merchant capitalism, commercial revolution, and territorial expansion that developed the New World and established the colonial economies. The Jewish-Caribbean nexus provided Jews with the opportunity to claim a disproportionate influence in seventeenth and eighteenth century New World commerce, and enabled West Indian Jewry-far outnumbering its coreligionists further north-to enjoy a centrality which North American Jewry would not achieve for a long time to come.

Groups of Jews began to arrive in Surinam in the middle of the seventeenth century, after the Portuguese regained control of northern Brazil. By 1694, twenty-seven years after the British had surrendered Surinam to the Dutch, there were about 100 Jewish families and fifty single Jews there, or about 570 persons. They possessed more than forty estates and 9,000 slaves, contributed 25,905 pounds of sugar as a gift for the building of a hospital, and carried on an active trade with Newport and other colonial ports. By 1730, Jews owned 115 plantations and were a large part of a sugar export business which sent out 21,680,000 pounds of sugar to European and New World markets in 1730 alone.

Slave trading was a major feature of Jewish economic life in Surinam which as a major stopping-off point in the triangular trade. Both North American and Caribbean Jews played a key role in this commerce: records of a slave sale in 1707 reveal that the ten largest Jewish purchasers (10,400 guilders) spent more than 25 percent of the total funds (38,605 guilders) exchanged.

Jewish economic life in the Dutch West Indies, as in the North American colonies, consisted primarily of mercantile communities, with large inequities in the distribution of wealth. Most Jews were shopkeepers, middlemen, or petty merchants who received encouragement and support from Dutch authorities. In Curacao, for example, Jewish communal life began after the Portuguese victory in 1654. In 1656 the community founded a congregation, and in the early 1670's brought its first rabbi to the island. Curacao, with its large natural harbor, was the stepping-stone to the other Caribbean islands and thus ideally suited geographically for commerce. The Jews were the recipients of favorable charters containing generous economic privileges granted by the Dutch West Indies Company in Amsterdam. The economic life of the Jewish community of Curacao revolved around ownership of sugar plantations and marketing of sugar, the importing of manufactured goods, and a heavy involvement in the slave trade, within a decade of their arrival, Jews owned 80 percent of the Curacao plantations. The strength of the Jewish trade lay in connections in Western Europe as well as ownership of the ships used in commerce. While Jews carried on an active trade with French and English colonies in the Caribbean, their principal market was the Spanish Main (today Venezuela and Colombia).

Extant tax lists give us a glimpse of their dominance. Of the eighteen wealthiest Jews in the 1702 and 1707 tax lists, nine either owned a ship or had at least a share in a vessel. By 1721 a letter to the Amsterdam Jewish community claimed that "nearly all the navigation...was in the hands of the Jews."' Yet another indication of the economic success of Curacao's Jews is the fact that in 1707 the island's 377 residents were assessed by the Governor and his Council a total of 4,002 pesos; 104 Jews, or 27.6 percent of the taxpayers, contributed 1,380 pesos, or 34.5 percent of the entire amount assessed.

In the British West Indies, two 1680 tax lists survive, both from Barbados; they, too, provide useful information about Jewish economic life. In Bridgetown itself, out of a total of 404 households, 54 households or 300 persons were Jewish, 240 of them living in "ye Towne of S. Michael ye Bridge Town." Contrary to most impressions, "many, indeed, most of them, were very poor." There were only a few planters, and most Jews were not naturalized or endenizened (and thus could not import goods or pursue debtors in court). But for merchants holding letters of endenization, opportunities were not lacking. Barbados sugar-and its by-products rum and molasses-were in great demand, and in addition to playing a role in its export, Jewish merchants were active in the import trade. Forty-five Jewish households were taxed in Barbados in 1680, and more than half of them contributed only 11.7 percent of the total sum raised. While the richest five gave almost half the Jewish total, they were but 11.1 percent of the taxable population. The tax list of 1679-80 shows a similar picture; of fifty-one householders, nineteen (37.2 percent) gave less than one-tenth of the total, while the four richest merchants gave almost one-third of the total.

An interesting record of inter island trade involving a Jewish merchant and the islands of Barbados and Curacao comes from correspondence of 1656. It reminds us that sometimes the commercial trips were not well planned and that Jewish captains-who frequently acted as commercial agents as well-would decide where to sell their cargo, at what price, and what goods to bring back on the return trip

---
Archived for Educational Purposes only Under U.S.C. Title 17 Section 107
by Jew Watch Library at www.jewwatch.com