Abstract: More and more "more extreme weather" is unfoundedly being trumpeted by the globalists a result of CO2 emissions, as it is clear that there is no global warming.
But this term, "more extreme weather", is an absurdity, since by 1996 there were already 45,000 un-manipulated thunderstorms with heavy rain, hail, microbursts, wind shear, and lightning, the U.S. Air Force reports in its "Owning the Weather 2025″.
Nevertheless, probably some unusually large weather disasters seem to be man made. Weather modification is an act of war as confessed by the U.S. Air Force.
"Chemtrails are geo-engineered aerosols that are loaded with toxic chemicals, including but not limited to:


barium, strontium 90, aluminum, cadmium, zinc, viruses and "chaff."


- Chaff looks like snow but it's actually Mylar fibers (like in fiberglass) coated with aluminum, desiccated blood cells, plastic, and paper.
Polymer chemist Dr. R. Michael Castle has studied atmospheric polymers for years, and he has identified microscopic polymers comprised of genetically-engineered fungal forms mutated with viruses, which are now part of the air we breathe."


"Chemtrails have nothing to do with the jet engine combustion process.
They are often laid in a grid-like pattern by multiple planes (even drones) where they disperse slowly taking on the appearance of odd, at first narrow, but widening, smoky clouds until merging together to form, if sufficiently numerous, an aerosol bank that obscures the blue sky and gives the appearance of a dirty white overcast.

Unlike normal contrails which quickly dissipate, chemtrails ("fake clouds" as my children call them) sometimes take hours to dissipate and eventually fan out to a "spider web" type of milky haze that covers the entire sky.
As these are formed from minute reflective metallic particulates they eventually reach the earth.
Chemtrails are a reality , as stated by the German Federal Government, The Royal Society of London, Russia, Obama 's science advisor, John Holdren (who stubbornly asserted 30 years ago, that an ice age were imminent!) , The IPCC AR5, the UN and now Edward Snowden.
Even some climatists admit that there has been was no extreme weather due to the non-existing warming - but we will see it soon!! (guesswork based on a lie).
The U.S. Air Force describes in its report " Owning the Weather 2025″ experiments with changing not only the weather, but also the climate with storms and hurricanes. A number of methods have been investigated and proposed to modify the ionosphere, including spraying in of chemical vapors and heat or electric charges by means of electromagnetic radiation or particle beams (such as ions, neutral particles, X-rays, MeV particles and energetic electrons). It is important to note that many techniques to change the upper atmosphere have been successfully demonstrated by experiment.
Edward Snowden, who has read U.S. documents, writes that since the 1960s, a geo-engineering lab named Muad'Dib exists. It wants to protect North America's climate at all costs - even if it means the acceleration of desertification in sub-Saharan Africa or carcinogens in sparsely populated areas. Other side effects include severe storms along the (U.S.) East Coast.
The Guardian wrote on 13 October 2013 about a geo-engineering accident: "A high pressure system stalled, winds circled and pushed air south over the Midwest. What resulted was a drought and heat wave which …cost $40 billion in damages and 5,000 to 10,000 deaths.
They admit they don't know the side effects of climate control, involving chemtrails, physically as well as socio-politically."
The chemtrails contain toxins such as, i.a., aluminum, barium, radioactive strontium and thorium, bacteria, blood. In the last century, Americans sprayed their unsuspecting populations with bacteria and viruses - even with radioactivity ( USA). It is of course all hazardous to health - not least nano-aluminum, which causes heavy neuro- degenerative diseases such as Alzheimer's and Parkinson 's diseases - and they occur with rapidly increasing frequency - which is also true of cancer frequency. "Are Chemtrails worth more than people who are sick with cancer, Alzheimer's, etc.," asks The Guardian.
Many believe this poisoning is part of a global HAARP-mind-control program: toxins such as aluminum and barium increase the mental HAARP-control effect.
Others think that it is about the population reduction planned by the elite (Georgia Guidestones, Rockefeller Foundation). The arch-Illuminatus, Henry Kissinger, has said: "In 10 years there is no more Israel" Since he is also affected by the poisons, perhaps he is prone to "the syndrome of self-hatred", which is now so fashionable in the Jewish elite. ("World Tribune, 22 Oct . , 2012). They may be depressed and suicidal after all their wickedness and hatred?
The demise f Israel was predicted in Ezekiel 38-39, Matth. 24, etc. , as well as by the Masonic guru, Albert Pike. They hardly have something good in mind.
*
Within a few weeks, I have experienced 2 hurricanes, spoiling my greenhouse twice. "Global warming" say the ideologists. "Nonsense", say the wise.
CBN News 27 March 2012: A new Syracuse University (US) study indicates climate change is natural and not caused by man.
Microbursts (right) are inverted tornados pulling aircraft downwsrds. They create side winds on the grown which break trees. Wind Shear is a difference in wind speed and direction over a relatively short distance in the atmosphere. They prolong thunderstorms which can then generate tornados,
When the globalists speak of increasing extreme weather - do they then compare with the reports of the The US Air Force´s "Owning the Weather 2025":
At any instant there are approximately 2,000 thunderstorms taking place. In fact 45,000 thunderstorms,
which contain heavy rain, hail, microbursts, wind shear, and lightning form daily
.
The very words "increasing extreme weather" therefore seems preposterous.
Nevertheless, as we shall see: The very big weather disasters (Yolanda and here as well as Sandy) are probably man made - an act of war as confessed by the US Air Force. The means are chemtrails and here and here and hereand here and HAARP.
Edward Snowden testifies to the reality of chemtrails
These barefaced fraudsters invent the planet´s situation - on the basis of sheer imagination. Then they go on with their lucrative but harmful taxpayer industry, serving chemtrails to a gullible mankind as necessity:
---
ONE RESPONSE TO " CHEMTRAILS EXPOSED BY EDWARD SNOWDEN, IPCC, UN, OBAMA´S SCIENTIFIC ADVISER, THE ROYAL SOCIETY, GERMANY, RUSSIA. MIND/POPULATION CONTROL. EXTREME WEATHER? "
Unusual 'cloud streets' spotted over Oxfordshire and Gloucestershire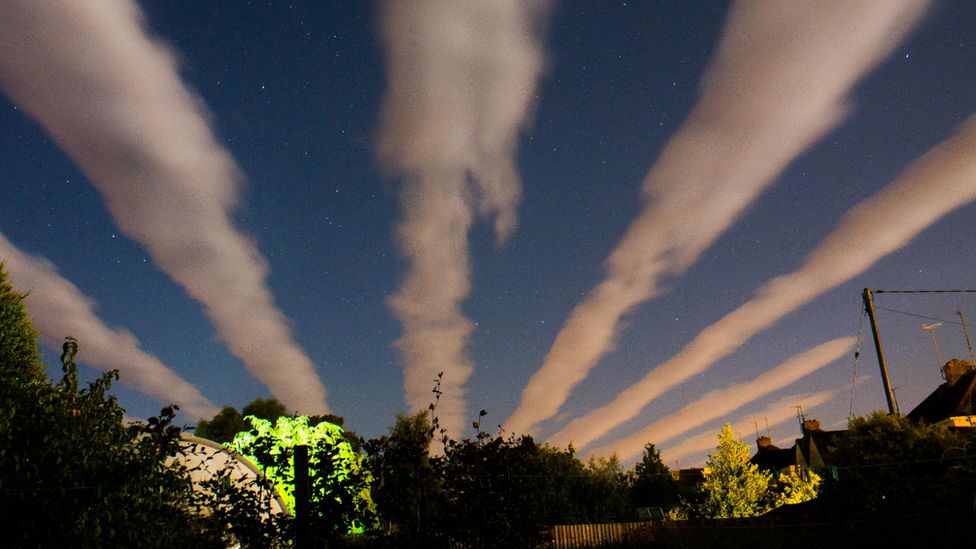 Spectacular cloud formations known as 'cloud streets' have been spotted in southern England.

The long streaks of cloud were seen by BBC Weather Watchers in Oxfordshire and Gloucestershire on Thursday evening.

BBC weather presenter Simon King said the clouds are not uncommon in the UK but these stood out against the fading light of the sky.

"Cloud streets are essentially long rows of cumulus cloud aligned in the sky with the wind direction," he said.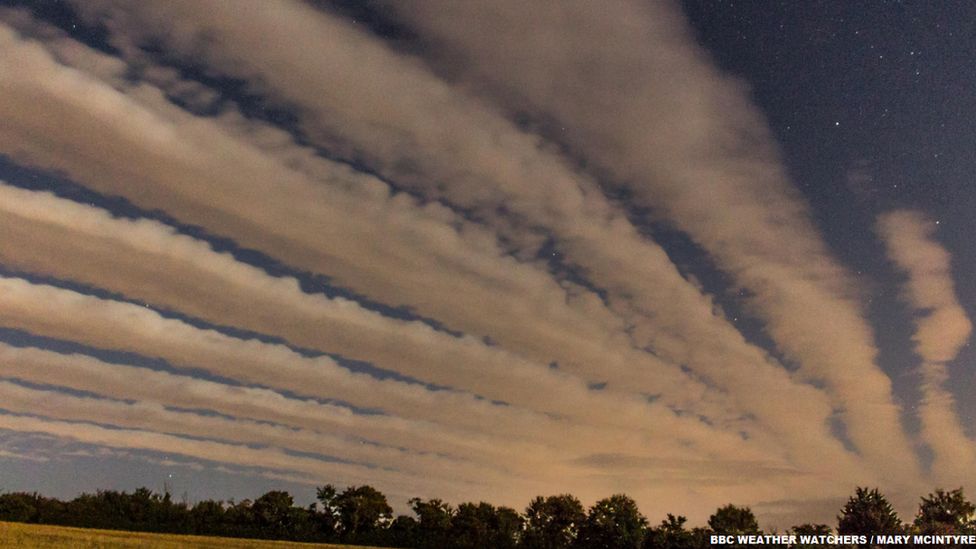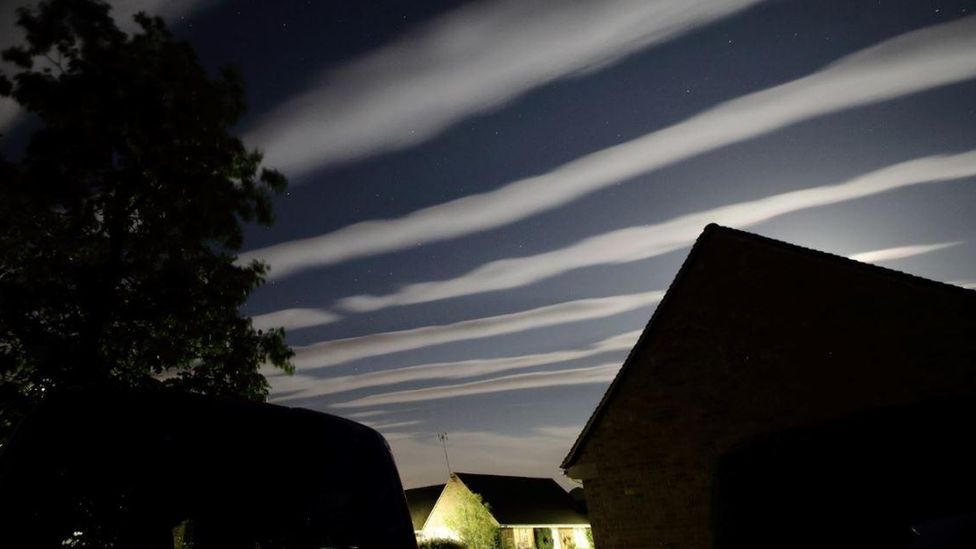 ---

BBC Weather presenter Simon King explains how 'cloud streets' form

Warm air on the surface rises, cools and condenses into cloud.
In certain situations a warm layer of air in the lower atmosphere, called an inversion, acts as a lid preventing air from rising any further.
This means at the top of the cloud, the cooler air is forced out horizontally where it will then start to sink back to Earth.

In this area, cloud doesn't form, so it is clear. This all sets up a cylindrical circulation which is parallel with the wind, creating the long row of cloud.

You may also like:
Doctor turns superhero for final treatment
Couples stuck as wedding firm shuts
Visitors flock to see 'lost' rare bird
---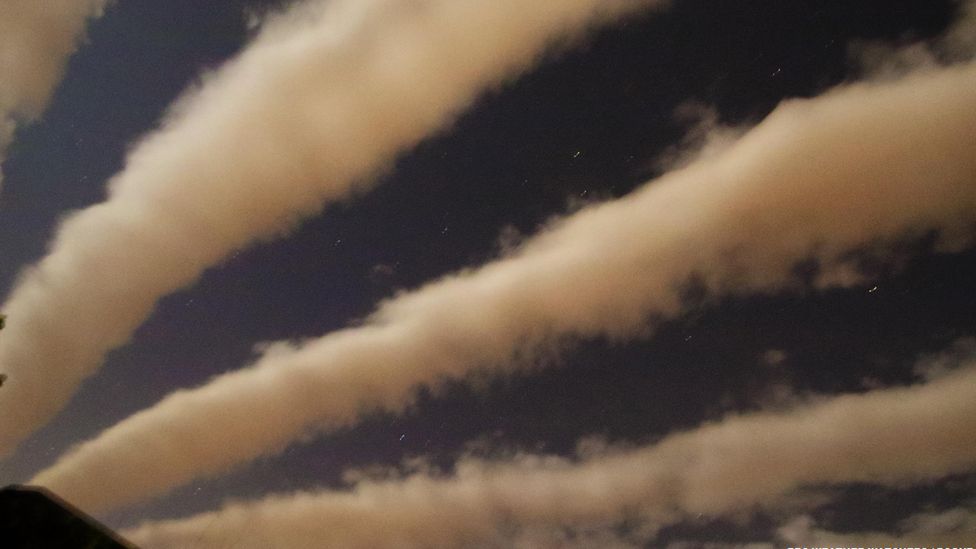 The phenomenon was spotted in Oxford and Tackley in Oxfordshire, and Little Rissington and Cirencester in Gloucestershire.
https://www.bbc.co.uk/news/uk-england-oxfordshire-45296731?SThisFB#