Amazing:
Woman Cures Breast Cancer with Black Salve
You're entitled to have a giggle at this should you feel inclined to do so ...
It's now just over two weeks ago since I removed my large breast tumour using black salve. The tumour came out in 2 stages, the smaller part after 20 days and the much larger part on day 28. The day after the large part of the tumour came out I hand delivered the breast tumours to the hospital, preserved in a jar of Regan's best polish vodka (much to his dismay).

The surgeon, a very amiable Irish chap, appeared quite dumbfounded and made very little comment. I was accompanied by my mum, Eileen, who with such genuine excitement at the whole event pipes up - 'Isn't is marvelous doctor, hasn't she done well?' - to which he politely refused to comment. I was keen to have the sample sent for histology in order that it would be documented in my hospital records. He agreed to do so, and he sent a follow up letter to my GP with comments as follows...
'This lady was seen in breast clinic today. She has a history of left breast cancer, she declined operative therapy and opted for alternative remedies.
She attended clinic today with, what appeared to be, 2 pieces of breast tissue. She had been applying herbal remedies to the area and this appears to have enucleated the tumour from the breast.

She is anxious to have these sent to the lab...I have explained that they may give us limited information as she has preserved it in vodka, but we have agreed to send it and await the outcome.'
I love that word 'enucleated' - I even looked it up for the official medical definition:

'removal of tumour from surrounding tissue without rupturing'.
'Enucleation is a surgical process during which only the tumor cells are removed.'
'To remove (a tumor or eye, for example) whole from an enveloping cover or sac.'
I went to the breast clinic yesterday to see the surgeon to get the histology report. It confirmed the obvious, i.e. that the tissue I had removed with the black salve was cancerous breast tissue - it's just good to have it authenticated for my medical records. I have asked for them to send me the full histology report, they agreed to post it on to me.

My wound is healing up amazingly well - it's looking great! I am overwhelmed at the body's capacity to heal. The hole had filled up within 3 days, new skin had covered the wound after a week, and now the wound area is reducing in size on a daily basis. I may yet go topless sunbathing again! (though not in front of my teenage son - he gets far too embarrassed).

I'm still on my strict diet and protocol, and will still be closely monitoring my left breast, especially bearing in mind I've still got a small tumour left in there, but I'm very confident that it's all looking very positive.
I'm due to go back at the end of October for my next clinic appointment...
Keep you posted x
Picture 1 - Tumour that came out on 2nd Sept (Day 20) (Attached at bottom of email)
Picture 2 - Tumour that came out on 10th Sept (Day 28) (Attached at bottom of email)
Picture 3 - The wound on 10th Sept (Day 28) (Attached at bottom of email)
Picture 4 - The amazing healing process - 26th Sept, 16 days after tumour came out
(Attached at bottom of email)
How To Use Black Salve:
**Please Note**much of the info below was received from Alpha Omega Labs, a company that sold black salve under the commercial name "Cansema" which was very successful in treating skin cancers before the FDA shut them down. There are a select few quality black salves that are still on the market today, like those found at:
As Alpha Omega Labs stated, the products found at risingsunhealth.com and bloodrootproducts.com are NOT quality salves and are a waste of money, like many others being marketed as true black salves. As with any ailment, it is important to seek out the advice and treatment of a qualified physician. This site is purely for educational purposes. Information found in this site is not intended to diagnose, treat, cure, or prevent any disease. Many of the comments found on this site have not been evaluated by the FDA, FTC, AMA or any other US government regulatory agency. Please read ALL of the following information for better understanding of the process!
The medical definition of "cure" is the non-reoccurrence of pathology within five years after treatment. By the very definition used by orthodox medicine, black salve is empirically a proven cure for skin cancer for the majority of those who use the product according to our instructions.
Effective black salve ingredients include blood root and zinc chloride at a minimum. Often, black salve will also include other immune boosting herbs such as chaparral, red clover, galangal and graviola.
First, as stated earlier, the user may want to have a biopsy or other diagnostic procedure performed to ascertain whether or not there is, in fact, skin cancer.
Many people, on the observation that they have a "mole" or similar skin marking that is growing and getting darker, have elected to use black salves anyway. After all, black salve is selective in its action and will only "go after" neoplastic (cancerous) tissue. Healthy tissue will only redden and become mildly irritated when black salves is applied. This decision is entirely at the discretion of the user; there is no danger, toxic or otherwise, of applying black salves to healthy tissue, although doing so is simply a waste of the product.
In addition, if you are targeting more than one growth, do one at a time and never apply to a spot larger than a USA quarter.
2. APPLICATION
Black salve comes in a 1/2 oz. container. The product has the consistency of a thick, moist paste. It can easily be self-applied with the fingers and should be spread over the lesion or cancerous tissue in a thin covering, almost lightly "caked." Wash hands thoroughly before and after applying Black salve.
The applied area will start to tingle shortly afterwards -- anywhere between 5 minutes to 6 hours after the initial application. (In fact, if you feel "nothing" after three to six hours, it is most likely that nothing more will happen: Black salve has failed to come into direct contact with the cancer or there is no cancer present. If after 24 hours there is no burning, stinging or pulling sensation, you will want to remove the Black salve, follow the suggestions below in steps 2A, then reapply, repeating this process, until the Black salve can reach and "grab" the underlying aberrant growth.) If the black salve takes hold and causes a burning, stinging or pulling sensation, then let the rest of the process play out..DO NOT WASH THE SALVE OFF, LET IT BECOME PART OF THE ESCHAR/SCAB THAT FORMS! In some cases, there is a burning sensation with larger lesions (larger than a USA dime, so it is important to have ibuprofen, or other non-prescription pain killer, available during the process. Note: the moment the eschar falls out, usually within 7-14 days of the initial application, the pain will immediately stop! Areas larger than a square centimeter (or bigger than a U.S. "dime") may require even stronger analgesics, which, being prescription, will require the services of a cooperative physician.
Otherwise, observing good "pain management" may require that the cancer be "taken out in stages." This involves applying a small amount to the edge of the growth, waiting for the sensations to die down as the eschar process begins, and then repeating this process on an adjacent area of skin until the entire area has been covered. Observe this same procedure if you are targeting more than one growth.
Do one at a time. In this fashion, any discomfort is minimized because the entire process, which can at that point last several days, has been spread out over time. This bears repeating: never apply Black salve to a large area, unless you are under a physician's care and advice.
It is also a good idea to place a bandage over the area, particularly if the forming eschar is on a place on the body that might be subject to being bumped or bruised in the course of daily activity. Another thing to consider is that Black salve can stain clothing, so for practical, aesthetic, and cleanliness issues, covering the site is a good idea.
" . . . I applied Black salve and no eschar appeared! . . . What do I do now?"

Black salve has to come into contact with the target cancer area in order to work. It has transdermal properties (i.e. skin penetrating ability) However, a couple of simple tricks can also speed up the process and/or reduce the number of applications required to "reach" a skin cancer that is well below the epidermis. Most people don't need these techniques if the skin cancer is close to the skin surface. We recommend that these "tricks of the trade" only be used if an initial application does not produce results - which turns out to be a minority of cases.
2A. "Deep Loufah Wash" - Many people use a loofah sponge to rigorously wash and prepare the skin before applying Black salve Salve. This serves to remove some of the dead cells in the top layer of the epidermis (the stratum corneum), so that Black salve has less tissue through which to travel to get to the underlying cancer.
"Needle Points" - This technique is more effective, but more invasive. It involves taking a sterilized needle and carefully making holes in the skin - about a sixteenth to eighth inch deep, very much as an acupuncturist would - except that the needle is removed as soon as the holes usually spaced about a quarter-inch apart. Following the creation of the "skin holes," Black Salve is then (re)applied. We recommend that this technique be used by practitioners and not end users. We also advise that practitioners prep the area by rubbing peroxide (3-6%) into the freshly "pricked" skin before Black salve is (re)applied.
3. MANAGING THE ESCHAR
After 24 hours remove the bandage. Using hydrogen peroxide (H2O2 - 3%, available in most drug stores) and a Q-Tip, very lightly go over the border of the lesion, removing any organic debris (i.e. puss, serous fluid, etc.) If a full pus formation is not evident or is incomplete, repeat step 2 and leave the new application on for an additional 24 hours before proceeding.
Normally one application is sufficient for small tumors (the size of a pencil eraser), but no more than three applications are required for larger tumors. There are instances, however, when repeated applications of Black salve are required because of "accessibility" problems - although this can be limited using the techniques cited in the preceding section. In order to initiate the escharization process, however, and begin killing the cancer, it is vital that Black salve be able to penetrate and reach the subject site. This can take multiple (three or more) applications, though one to two applications is more common.
After the eschar has formed, keep it well protected.
Once the scab has formed, you should apply the After Care Cream and continue to use until spot is completely healed.
This product will insure the scaring is minimal and keep the scab moist. Normally the bandage can be left on for a period of 10 days: however, in advanced cases there is considerable "drainage," that is, a steady emission of pus. In the sense that Black salve kills the cancer cells and takes certain leukocytes (defending white blood corpuscles) with it in the process of eliminating the neoplasm, it is a supportive agent: that is, drainage should not be viewed as abnormal. The range of possible response is very little pus and only one bandage ever required, to a regular change of bandages required in the case of advanced melanomas. Your case will be somewhere in-between.
4. REMOVING THE ESCHAR
The eschar itself represents the death of the neoplasm, and this occurs shortly after application. Everything that follows is the body's own reparative responses. From here on out, the body knows exactly what to do and wastes no time doing it. However, to us the days and weeks that follow may seem lengthy.The next stage is the removal of the eschar, or scab.
This usually happens within 10-14 days after initial application, unless the case is advanced and/or cancer(s) cover a large area of the body.
As with any scab, let it fall out when it is ready. DO NOT PULL IT OUT prematurely, if you remove the eschar prematurely, you further risk developing scar tissue and the cancer root will be left behind to spread.
5. DECAVITATION & "HEALING OVER"
After the eschar comes out, the pit or "decavitation" can look raw and unsightly. You need to wipe out the healthy pink crater tissue with peroxide, then look for any embedded white spot(s) in the healthy tissue. If you see any such spot(s), these are cancer roots and you need to immediately cover the white spot(s) only in the crater with more black salve and let the process begin again.

If no white spot(s) is/are present, keep the crater covered and there will be no threat of secondary infection.



Continue to apply the After Care Cream twice daily to the area until it is fully healed over and level with the surrounding skin.
If you work in an area that is less than clean, however, you might want to have hydrogen peroxide (available in any good drug store) handy and apply it liberally to the site once a day to kill any invasive germs.

Over a period of a few months, or in some cases two years, the entire area will be healed with only some "depigmentation" or scar tissue. The result is rarely more unsightly or unaesthetic than if surgery had been chosen instead.
Only in rare conditions does the cancer "come back" to the area applied, unless there is underlying metastasis. To be sure that the area is clear of cancer, many users elect to initiate a second, or even third, application after they get to the "heal over" stage. We take a dim view to doing this indiscriminately because the risk of scarring is increased with each new re-application. However, with particularly aggressive forms of cancer, such as melanoma, a user may want to weigh the potential advantages of re-application, particularly if the initial cancer is located somewhere on the body that is not usually aesthetically sensitive or viewed in public (i.e. on the back, upper leg, etc.). None of this should be taken as a substitute for using some of the better cancer marker tests that are now available from qualified, licensed physicians. In other words, if you don't need more than one application, why do it.
In other words, once Black salve has finished its work, there are normally no residual cells from the original neoplasm. This rule finds more exceptions the larger the original cancer growth is, the deeper it is beneath the skin, the more instances of skin cancer the subject has experienced, and/or the more extensive a person's history of skin cancer is or has been.
Remember, you may need to repeat this process if the skin cancer is sufficiently extensive such that residual cancer cells have been left behind after you finish your first "cycle." (Although, this same admonition would exist if you had your skin cancer surgically removed.) To be on the side of caution, have your health care practitioner check the site to see if there is any remaining cancer. There are excellent antigen marker tests that your physician can utilize to determine if you have a "clean bill of health."
Thanks you so much for all the wonderful messages that I have received since posting information on the black salve treatment that I used recently...It is heartwarming to receive such positive messages of support, especially knowing that I may have had a positive impact on others. Since posting the information I have been inundated with comments and questions, and hundreds of friend requests. I am trying to respond but it is difficult to keep up with them, so I am having to p
rioritize those that appear to be most pressing. I hope you'll understand If I don't get chance to reply in a timely manner, I'm not being rude - there's just not enough hours in the day! I've also got to still concentrate on looking after me too I'm still recovering really well - now 4 weeks today since the main tumour came out, and the wound gets better each day. I'm still on my strict protocol: vegan diet, lots of juicing, good quality filtered water, herbal teas, homeopathy, lots of supplements including high dose Vit C, running, yoga, good quality sleep - but just lately not enough sleep though - been too busy on FB!

xx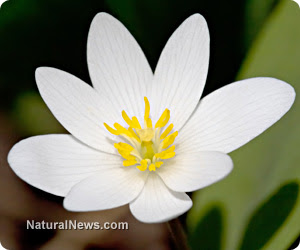 Indian black salve: The magical cancer cure
(NaturalNews) What if we told you there exists a blend of herbs so powerful, effective, and safe for treating cancer that no other conventional treatment even comes close? And what if we told you this same herbal formula only targets malignant cells while leaving healthy cells and other tissue
alone? The formula in question actually does exist, and it is traditionally known as Indian

black salve, a "magical" cancer cure of sorts that also safely treats viruses and many other health conditions without causing harmful side effects.
If you have never heard of Indian black salve, it is probably because the U.S.
Food and Drug Administration
(FDA) does not recognize it as an official cancer treatment. In fact, most medical authorities who have heard of Indian black salve reject it as any type of medical treatment because it is made from all-natural herbs that are not patented or owned by corporations, which automatically means they "do not work" in the eyes of the medical-industrial complex (even though they actually
do
work).
The miraculous healing power of bloodroot
But in truth, Indian black salve is one of the most powerful natural cancer treatments known to man. And this is primarily due to the fact that it contains bloodroot, a potent herb native to the United States and Canada that is already recognized among many in the natural health community as being effective in the treatment of warts, moles, skin tags, cherry angiomas, and skin cancer. But as it turns out, bloodroot is also effective
internally
as a treatment for ovarian, breast, bladder, bone and many other cancers.
There are numerous
Indian black salve
blends available, and all of them contain bloodroot and several other prominent healing herbs.
Lifeline Water
, for instance, sells a potent, alcohol-free Indian black salve formula that contains not only bloodroot but yellow dock, licorice, galangal, zinc chloride, and
Lifeline Water
. You can learn more about this amazing product here:
http://www.lifelinewater.com/herb.html
You may also remember the saga of herbalist Greg Caton, who we previously reported had been illegally kidnapped and extradited from Ecuador for his involvement in producing natural cancer-cure herbal products (
http://www.naturalnews.com/Greg_Caton.html
). Caton's
Alpha Omega Labs
, which still operates out of Ecuador due to medical tyranny here in the U.S., also sells herbal products similar to Indian black salve that contain healing bloodroot:
http://www.herbhealers.com/



How does Indian black salve work, and how should you use it?
Since mainstream medicine continues to deny the therapeutic value of Indian black salve, little is known about how it actually works. But many people have successfully used it both externally and internally to treat all types of
cancer
, viral infections, gastrointestinal problems, and other conditions. Topically, Indian black salve can be applied directly to malignancies for rapid healing.
Lifeline Water
recommends mixing
three grams of Indian black salve with four ounces of natural or bee pollen cream
.
Internally, mixing a small amount of Indian salve paste
about the size of half of an English pea
in
water
or putting it into a capsule and taking it either once or twice a day,
on a full stomach
, can help effectively treat and eliminate cancer in as few as 20 days. Though the company is not permitted by law to explain these healing details with customers, many have used Indian black salve successfully to treat their cancers.
Natural News
is exercising its free speech rights to share this information with you, and we have
absolutely no financial or other connection
with
Lifeline Water
or any other company offering Indian black salve. We are merely informing you about this amazing healing compound for your own benefit, should you or a loved one develop an "incurable" condition like cancer that cannot be treated using conventional methods.
To learn more about Indian black salve and how to use it properly, visit the following links:
http://www.natmedtalk.com/f50/2400-indian-herb-testimonials.html
http://www.homespunalley.com/blog.html
As always, be sure to consult a physician before starting any new medical treatment.
Sources for this article include:
http://www.lifelinewater.com/index.html
http://www.mcdanielwater.com/index.html
http://www.altcancer.com/
Posted by EMF Refugee at Wednesday, October 08, 2014
http://emfrefugee.blogspot.com/2014/10/amazing-woman-cures-breast-cancer-with.html
__


____
Is Cancer Caused By Candida?


Anywhere between 79 to 97% of all cancer patients also have Candidiasis
Balance…it's so important: work-home, acid-alkaline, yin-yang, light-dark, activity-rest, public-private, belief-skepticism and so forth. Life feels harmonious, bodies feel strong, and minds & hearts feel clear when we're in balance.
One of the many elements to good health is maintaining a balance of Candida albicans, an intestinal fungus in the medley of gut flora. Candida lives in 80% of the human population without causing harmful effects, although overgrowth of the fungus results in a condition called Candidiasis.

Candida:
In the plant world, carcinoma is caused by fungal infections, and the same happens in humans. Fungi always carry a tumor with them – this has been proven in both in vivo and in vitro studies.
However, scientists believe that they develop after the disease appeared. Dr. Simonchini believes that they were already there before – fungi create cancer, weaken our immune system and then attack the whole body.
Every type of cancer is caused by the Candida fungus, which has been confirmed by several studies, and its histological structure is a result of the defensive measures against the invasion. Over time, our tissues are weakened and tired, and they start producing unidentified cells.

According to Dr. Simonchini, cancer is an "ulcer" where deformed cells accumulate and form colonies. Baking Soda: The usual antifungal drugs are ineffective against cancer as they only attack the surface of the cells. The main infection is more powerful than a single bacterium, which is why fungal infections last for so long. "I have identified the things that can attack these colonies of fungi – for cancer, it's baking soda, and a iodine tincture is the best substance for skin cancer," claims Dr. Simonchini.
Many studies have confirmed baking soda's intracellular action against cancer.
The Treatment:
"I have used the treatment on my patients for more than 20 years.
Many of these patients have completely recovered from the disease, even when doctors gave them no chances. The best way to eliminate a tumor is for it to come in contact with baking soda, which can be applied as an enema for digestive cancers, intravenous injection for brain and lung tumors and inhalation for tumors in the upper respiratory system.

Breast, lymph system and subcutaneous tumors can be treated with a local perfusion.
Internal organ tumors should be treated with baking soda by applying it directly into the arteries, and it's also important to treat every type of cancer with the proper dose," Dr. Simonchini explains, and continues: "For phleboclisis, you'll need about 500 cm. of 5% or 8.4% solution; in some cases, the mixture only needs to be salty enough.

During every treatment, it's important to know that tumor colonies come back between the 3 and 4 day, and suffer a collapse between the 4 and 5 day, so a minimum of 6 days of treatment is required. The treatment should be repeated for 4 cycles, and has no other side-effects other than thirst and weakness."
"For skin cancer, you should rub a 0.7% iodine tincture on the affected areas 20-30 times a day.
Afterwards, the tumor will not return," Dr. Simonchini says.

Here are the main symptoms of Candida infection:
Chronic fatigue; Obsessive-compulsive disorder; Anxiety and irritability; Brain fog and nausea; Chronic skin disorders; Chronic digestive disorders; Mood changes; Starch and sugar cravings. If you have notice at least 2 of these symptoms, you may have an advanced stage of candida infections which may result in cancer, so they should never be ignored.

Treatment And Prevention Of Candida Infections:
The fungal development must be kept in check. Left untreated, candida can lead to candidiasis which can cause symptoms that mimic other diseases and result in perforation in the intestines and leaky gut syndrome. This will allow protein to attack your blood cells. In order to prevent further problems, we first need to eliminate the foods that feed candida – sugar and starch.

This means no bread, candy, fresh fruit, pasta and rice for a while. Focus on eating raw fruit and steamed vegetables, and some people have had great results with grapefruit seeds. Dr. Simonchini recommends using aluminum-free baking soda for the treatment of cancer. It can be found in almost all health stores and pharmacies.

How The Therapy Works:


Baking soda significantly increases the alkalinity of your blood which destroys the fungi. Due to this, baking soda quickly disintegrates the tumor, leaving it without defense.
Dr Tullio Simoncini explaining the simple cure for cancer

For stomach, colon, rectal and oral cancer, you need to take 1 teaspoon of baking soda in a glass of water every morning and evening for a month. In most cases, this is enough time to eliminate the tumor.

The therapy should last 3-4 weeks and not a day more. Dr. Simonchini's therapy also usually requires intravenous injections as well. For best results, you'll need 500 ml. of 5% baking soda solution applied in the vein directly every day.

Do this for 24 days, then go for a scan.
Vaginal fungal infections have become pretty common nowadays and according to Dr. Simonchini, they are the main culprit for cervical cancer and vaginal tumors. In order to treat these problems, you need to wash your vagina with a mixture made of 2 l. of filtered water and 2 tablespoons of baking soda. This will defeat the fungi that are causing the problem and prevent them from coming back in the future. Related: Astonishing Evidence: Coconut Oil And Baking Soda Can Kill Cancer Baking Soda – True Enemy Of The Pharmaceutical Industry Video: Any Type Of Cancer Can Be Cured In Just 2-6 Weeks
• …anywhere between 79 to 97 percent of all cancer patients also have Candidiasis. Dr. Simoncini's research has led him to believe that something as simple as a fungus, Candida albicans, is the leading cause of cancer; that cancer itself is in fact a fungus. What we refer to as a tumor is nothing more than a body's attempt at protecting itself from that fungus by encapsulating it.
• A good sign that Candida is out of balance in the body is feeling "run down" and developing a craving for sugars and carbohydrates, as this is the main fuel for the growing amounts of yeast in the intestine. The more sugar and grains eaten, the more the yeast grows out of control. Eventually, this will weaken the immune system, which, in turn, can allow it to infiltrate various other organs.
If you are interested and have 26 minutes to invest, watch this fascinating video from
Dr. Simoncini's website
:


The imbalance in intestinal flora, sometimes called dysbiosis, can also lead to other more common, and less lethal, health problems such as:
Vaginitis
Irritable bowel syndrome
Weight gain
Food allergies
Migraines
Asthma
Depression
Chronic fatigue syndrome
Fibromyalgia
Thrush
• Fungal cultures such as candida excrete large amounts of poisons called mycotoxins as part of their life cycles. These poisons must be detoxified by the liver and immune system. Eventually they can wreak enormous damage on the tissues and organs and are believed to be an aggravating factor in many degenerative diseases such as cancer, arteriosclerosis, and diabetes.
Symptoms of Systemic Fungal Infection:
Fatigue/low energy
Overweight
Low resistance to illness
Allergies
Unbalanced blood sugar
Headaches
Irritability
Mood swings
Indigestion
Colitis and ulcers
Diarrhea/constipation
Urinary tract infections
Rectal or vaginal itch
• Pathogenic microorganisms have a tendency to hibernate along the spinal cord and in the lymphatic system. The body has the ability to hold them in a suspended state for long periods of time. When the immune system becomes compromised from stress, fatigue or other factors, they can be released and manifest illness and disease. Essential oils of oregano, thyme, or hyssop along the spine using
Raindrop Technique
may help to drive the dormant fungi out of the spinal fluid.
Candida Symptoms
Candida is such a difficult condition to diagnose because it can affect each sufferer in a different way, on a different part of their body, in a way that may even be unique to that person.
For this reason, Candida is often misdiagnosed and the symptom is treated instead of the underlying cause, rather like taking a lozenge for a throat infection! Practically, patients often have to
diagnose themselves because the symptoms of Candida are so confusing.


The consensus is that many more
people are suffering from Candida than those few who are diagnosed correctly. You may find yourself suffering from any or all of the following symptoms if you have Candida:
The Way You Feel
Inability to focus, Poor memory, Brain fog, Irritability, Anger, Dizziness, Depression, Crying spells, Panic attacks
, Low libido, Persistent extreme fatigue, Hyperactivity, Cravings for sweets and alcohol, Insomnia, Poor coordination.
Your Digestive System
Acid reflux
, Bloating, Flatulence, Nausea, Diarrhea, Constipation, Stomach cramps, Indigestion, Burping after meals, Mucus in stool, Hemorrhoids, Itching anus.
Your Skin
Acne, Cysts, Hives, Night sweats, Psoriasis, Eczema, Dermatitis, Fungal infections of the nails & skin, Athlete's foot, Body odor
.
Your Mouth
Thrush (white coating on tongue), Swollen lower lip, Halitosis, Metallic taste in mouth, Bad breath, Canker sores
, Bleeding gums, Cracked tongue.
Your Respiratory System
Persistent cough, Mucus in throat, Sore throat, Sinus congestion
, Chronic post-nasal drip, Flu-like symptoms, Hay fever symptoms, Sinusitis, Asthma.
Your Ears And Eyes
Eye pain, Itchy eyes, Sensitivity to light, Blurred vision, Bags under eyes, Ringing in the ears, Ear infections.
Your Genito-Urinary System
Recurring yeast infections
, Recurring UTI's (urinary tract infections), Cystitis (inflammation of the bladder), PMS & menstrual irregularities, Fungal rash.
Your Immune System
Frequent colds and flu, Allergies, Sensitivities to food, fragrances and chemicals.
Your Weight
Inability to lose weight
, Water retention, Weight loss.

Other Symptoms
Headaches, Heart palpitations
, Chronic body pain and/or joint pains, Muscle aches and stiffness.
Expert Leon Chaitow says in his book that, "Candida is possibly the least understood, most widespread cause of continuing ill health currently in our midst." Think of all the people suffering from the above symptoms, think of the number
of times that you yourself have suffered from them, and you can see how this might be true!

Candida Misdiagnosis
Your doctor might confuse any of the following conditions with Candida. The reason is that the symptoms are often exactly the same, and Candida may manifest itself in any combination of those symptoms.
We have listed here some of the possible misdiagnoses, together with the symptom that your doctor has focused on. Remember, your doctor is relying on you for an accurate description of your symptoms, so make sure you tell him everything!
IBS

- abdominal pain
, bloating, gas, diarrhea, indigestion


Arthritis

- joint pain
Chronic Fatigue Syndrome
- constant fatigue


Diaper Rash

- rashes and itching in infants


Athlete's Foot

- Fungus on toenails


Crohn's Disease

- abdominal pain, bloating, gas, diarrhea, indigestion


Gastroenteritis

- abdominal pain, bloating, gas, diarrhea, indigestion

Foods to Control Candida
If you struggle with Candidiasis, dysbiosis or cancer, it may be to your benefit to dig deeper into the candida theory and Dr. Simoncini's website which advocates sodium bicarbonate (baking soda) treatments. Baking soda is alkalizing and it neutralizes tumors.
http://phwater.com.ua/2017/11/26/produkty-okislyayushhie-ili-oshhelachivayushhie-organizm/
___
THEY CALL IT "CANCER"
Researchers in Finland have discovered a drug combination that collaborates with the cancer cells' own MYC oncoprotein, which in large quantities causes self-destruction of the cancer cells.When this combination is enhanced with immune system-boosting anti-PD-1 therapy, a more effective and long-lasting therapeutic effect can be seen in mice. These findings pave the way for new treatment combination strategies to harness the body's natural defenses to fight cancer.
MYC, a gene with high cancer-initiating potential, is overexpressed in over 40% of breast cancers. While MYC programs breast cancer cells to build more macromolecules (anabolic metabolism) it also creates a metabolic vulnerability by making them more sensitive to a type of cell death known as apoptosis. Research Director

Juha Klefstrom

, PhD, University of Helsinki, Finland, has worked for a long time to exploit this apoptosis-sensitizing effect of MYC in the battle against the cancer.
Klefstrom and his research group found that, because of this vulnerability, cancer cells can be attacked with a "drug cocktail" that includes the diabetes drug metformin and venetoclax, a BCL-2 protein inhibitor that can induce apoptosis in cancer cells. The group identified metformin in a search for drugs that could boost the apoptosis-inducing action of venetoclax. Venetoclax has been approved to treat certain leukemias but not yet for the treatment of breast cancer.
Cancer tumor is always

white

, not

green

,

blue

or

red
Invasive Breast Carcinoma (IBC)
Images of invasive breast cancer:


Carcinoma of the breast is the most common cancer in the Western world and accounts for 20% of all cancers in women in the UK, with 1 in 10 women developing breast cancer in their lifetime (the prevalence of the condition in males is significantly less).

By TeachMeSeries Ltd (2019)

Invasive carcinoma of the breast can beclassified into:
Invasive ductal carcinoma (75-85%)
Invasive lobular carcinoma (10%)
Other subtypes (5%), such as medullary carcinoma or colloid carcinoma

Historically, ductal and lobular carcinomas were originally divided on the basis that ductal carcinomas arise in the ducts and lobular carcinomas arise in the lobules; it is now known that almost all breast carcinomas actually arise in the terminal duct lobular unit but this classification remains in use due to the different behaviour of the two subtypes.

"This drug combo exploits specific metabolic vulnerabilities that high levels of MYC creates in tumor cells. Metformin and venetoclax, when given together, killed breast tumor cells in culture and blocked tumor growth in breast cancer animal models. Furthermore, the drugs efficiently killed authentic breast cancer tissue donated by breast cancer patients. The breast cancer samples were obtained fresh from surgeries performed in Helsinki University Hospital", Dr. Klefstrom says.
However, the researchers soon discovered that the metformin plus venetoclax treatment only held tumors in check as long as the mice with implanted breast tumors were actively being treated with the drugs; once the treatment was stopped, the tumors grew back. The study shows that tumors were initially filled with tumor-killing lymphocytes; however, after the treatment they largely vanished and the remaining killer cells expressed PD-1, a marker of immune cell exhaustion.
To help the immune cells better fight the tumor, the researchers developed a new treatment strategy. First, they hit breast tumors with apoptosis-inducing drugs metformin and venetoclax to reduce the tumor size and to wake up killer lymphocytes. After the primary tumors were surgically removed, the mice were then treated with a triple combination: metformin, venetoclax and a PD-1-targeted antibody, which is used in immunotherapies to keep killer cells active long-term.
"With this combination the survival of mice carrying implanted tumors was extended dramatically in comparison to mice that were treated with only single or double combinations", Klefstrom states.
Klefstrom highlights that this is a wonderful example of a translational study fundamentally aimed at taking research from bench to bedside. The key people from the University of Helsinki and Helsinki University Hospital (HUS) - basic researchers, pathologists, surgeons and oncologists - were all involved at the earliest stages of the study.
The first author of the study Dr Heidi Haikala notes: "It's quite amazing how we've been able to bring a discovery from the lab bench all the way to the doors of the cancer clinics within the time frame of one PhD project. We are very excited about our findings and hope that they will translate to benefit breast cancer patients."
"This is a great example of how scientists in academia, leveraging highly specialized tumor models and applying their unique insights, can contribute to the discovery of potential new treatments for people with cancer. It is also a testament to the great research being done in smaller countries like Finland," states Joel Leverson, Ph.D., a Senior Scientific Director at AbbVie and one of the senior authors in the study.
"We finally have a drug combination that efficiently exploits MYC's apoptotic function and most importantly, these drugs can be tested in the clinic in real patients. We are currently working hard towards this next step," Klefstrom concludes.
The collaborative study involved Juha Klefstrom, Satu Mustjoki and Timo Otonkoski groups at the University of Helsinki, FIMM, HUSLAB pathology, Helsinki University Hospital/HUS breast cancer surgery unit and HUS Comprehensive Cancer Center. Other key collaborators included University of Wurzburg, Germany, Oncotest GmbH (now part of Charles River Laboratories Inc.) and AbbVie, North Chicago
.
Reference: Heidi M. Haikala, Johanna M. Anttila, Elsa Marques, Tiina Raatikainen, Mette Ilander, Henna Hakanen, Hanna Ala-Hongisto, Mariel Savelius, Diego Balboa, Bjoern Von Eyss, Vilja Eskelinen, Pauliina Munne, Anni I. Nieminen, Timo Otonkoski, Julia Schüler, Teemu D. Laajala, Tero Aittokallio, Harri Sihto, Johanna Mattson, Päivi Heikkilä, Marjut Leidenius, Heikki Joensuu, Satu Mustjoki, Panu Kovanen, Martin Eilers, Joel D. Leverson, Juha Klefström. Pharmacological reactivation of MYC-dependent apoptosis induces susceptibility to anti-PD1 immunotherapy. Nature Communications. DOI 10.1038/s41467-019-08541-2
_









Treat candida and inflammations yourself
shop
cart